Parts of my dash have already been finished.To get a good overview of infos about the race, car status, etc, there often are infos on the monitor, but many things can only get accessed with some key combos or are not available at all.
Especially with a realistic FOV ("Field of View") parts of the Simulation-Dash could be out of view completely – to compensate for that and also to have a possibility to mount additional buttons I designe a dashboar in CAD which can be mounted directly to my CSL Elite wheelbase.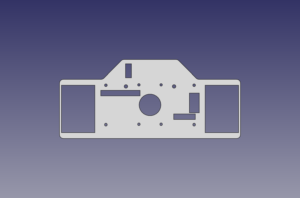 Central part in the middle will be the dash display, showing current gear, a RPM LEDline, 6 status LEDs (DRS, flags,…) and 2 8-digit-7-segment-displays with position, speed, rpm and current round.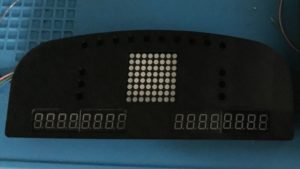 Left and right of the wheel are 2 holes where different panels can be mounted on – at the moment I have built a status panel (including 3 switches) and a buttonbox with ignition and starter button.
There are 6 buttons and 4 rotary encoders with push buttons built into the box: 3 buttons used for ignition, starter and pause button, the rest still free to assign. The rotary encoder control the FOC, TC Cut and Enginemap in ACC, one function still not assigned yet.
The status panel can show different telemetry data out with SimHub. At the moment it's configured to show tyre pressure and temperature and different timing info on the second page.
Right now, only the statuspanel is done, the buttonbox should be connected to an input card shortly and I'm waiting for some RGB leds to finish the dash. I did a short video of the statuspanel in action:
I managed to do a temporary dashboard out of 10mm plywood in 20 minutes, mounted it on the wheelbase and also soldered the displays of the center part – it looks really great, when in action: