At last – work on the new simrig has begun!
But before I started cutting and welding, the final design for the rig has been done.
Pedal- and seatmount took quite some time until I got it right – being simple enough when building but giving all the functionality I need from them.
First welding tries were quite succesful – so I started with the baseframe: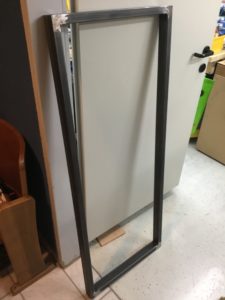 Everything is square, in one plane and stable enough – I'm pretty satisfied.
Today the pedalplate has been finished. Once it's completely mounted on the slide-mechanism I'll be able to drill the holes for the angular adjustment on the two tongues at the back of both sides.
The slots in the plate let the pedals slide sideways to easily switch between 2 and 3-pedal setup.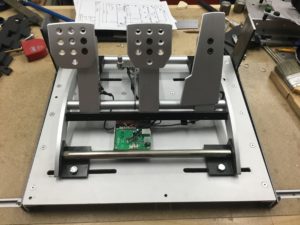 To reduce flexing of the plate while braking, I attached 2 angle brackets at the back to stiffen everything. First tests showed little to no flex in this area – success!
I don't use regular nuts at the back to mount the pedals but instead opted for a steel anglebracket with 2 nuts welded on on each end. This gives me 2 advantages:
1. The added angle brackets increase the stiffnes of the plate
2. Loosening and tightening the bolts when sliding the pedals can completely be done from above.
Without pedals and anglebracket the plate weighs 6kg 😀
There's another part of the project I started fiddling around quite some time ago: tactile feedback!
I'm using SimHub to show telemtry date through an Arduino with leds and 7-segment displays. This software also has the builtin possibility to control so called bass shakers, which are speakers that vibrate instead of making a sound.
On the old rig I used 3 old shakers I bought more then 15 years ago for the flightsim, mounted 2 on the seat and one on the pedalplate and used 2 cheap amps to power them.
Although mounting mechanism and amp are not perfect, first impressions were really great! SimHub lets you control the shakers with data from engine rpm, wheel slip/slide, roadbumps,… and you're getting much more feedback about the behaviour of the car.
I already ordered new shakers (EUR 13,- a piece) for the new pedalplate and mounted them in a stereo setup. If it's not clear enough to feel the difference between left and right at least I'll have the power of 2 shakers to make the pedals vibrate 🙂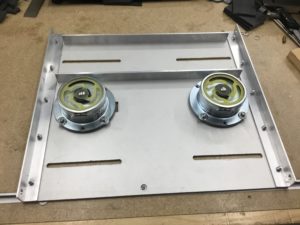 After the great feeling during the tests, I decided to up the setup a bit and ordered 2 better amps (100W) and a Reckhorn BS200-i Shaker.
The final tactile design at the moment for the new rig will be:
2 cheap shakers on the pedalplate, powered by the cheap, 40W max output amp
2 cheap shakers on the seat's left and right side, powered by a Nobsound NS-15G 2x100W amp
1 Reckhorn BS200-i Shaker on the bottom of the seatpan, powered by a Nobsound NS-03G 100W subwoofer amp
Once everything is setup, configuration of SimHub will be quite some fun 🙂