A new project hast arrived – a racing simrig.
The last time, I've played a racing sim was more than 15 or 16 years ago. Watching some videos on Youtube about GTSport on the PS4 the racing fever spread again and I purchased a Logitech G29. 20 years ago I've build a transportable racing rig to play racesims with my friends: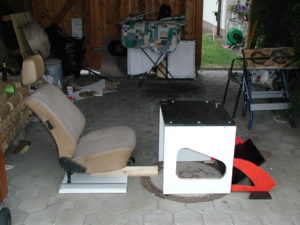 Because the couch and table didn't show enough sturdiness for harder racing incidents, this old rig came to mind again. I removed the dust of more than 10 years, mounted it on a frame on wheels and added our old 37″ TV – now racing felt completely different.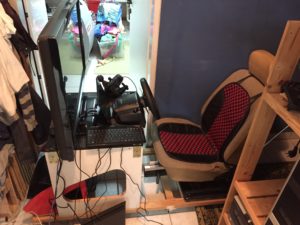 During the last years there's been a lot of development in the community. SimHub is a software to get race data out of most sims and control external hardware, like an Arduino. I used this program and some parts out of my electronics workbench to create a small dash display, based on infos by amstudio on Youtube (https://www.youtube.com/channel/UCQS1ZB3BVSrBo3tCs7PyfxQ)
When designing my transportable rig all those years ago, I mostly thought about a lightweight and small design, so the sitting position is not perfect. Instead of reworking the wooden project and because I already wanted to learn welding, I decided to build a new simrig made out of metal. It's loosely based on Simlab's designs (GT1, P1-X) and I made a first prototype in Sketchup:
First purchase for the new rig has been a new seat, the old one started to show it's more than 30 years of usage 🙂 I found a very cheap gaming chair on Ebay which has already been delivered: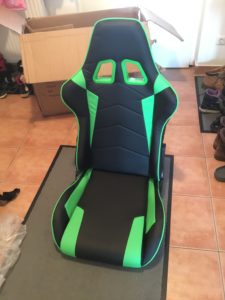 The order for the frame's steel has already been shipped and should arrive in some days.
greetings
michi